On Thursday, May 17, 2018, the Property Management Association held their General Membership Meeting with a fun twist at the end of the day. The members participated in an event titled Big Hearts on Little Trikes to raise funds for Shelters to Shutters. The event included Green Machines, a race track around the meeting venue and 20 brave individuals representing the various association member companies all vying for bragging rights and a trophy. The event was a big success and a great example of how to put on a creative and fun beneficiary event that brings people together for a common goal and a great cause! I had the opportunity to speak with the organizers about the event to share their experience and advice for others who may be interested in putting on their own fundraiser.
For those who don't know, tell us a little bit about the Property Management Association and why you are involved in giving back to non-profits in your local communities?
PMA is a thriving community of more than 1,800 property management professionals who manage an estimated 750,000 residential units and in excess of 100 million square feet of commercial, retail and mixed-use space. PMA's resources include nearly 400 Associate Member firms that provide products and services property managers and properties use daily. Within PMA there are 13 separate committees/councils one of which is the Community Service Committee which capitalizes on PMA members' expertise to improve the quality of space where people live and/or work and provides mediums for members to serve their community.
Big Hearts on Little Trikes, how did PMA come up with this event? What was the goal?
The PMA Community Service Committee wanted to do a fundraiser that not only served  multiple great causes but would be fun for both participants as well as spectators. We toyed with several different event ideas, however, when this one was brought up in our committee meeting, our members couldn't stop laughing and talking about it. We knew it was the one. Our goal was to raise money for Shelters to Shutters as well as to donate the gently used Green Machines (trikes) to a great cause following the race.
Tell us a little bit about how the event was set up. How did you recruit racers and get people engaged in participating and fundraising?
We first set the goal of raising $5,000 for Shelters to Shutters and then began the process of finding the best way to raise these funds incrementally to both hit the goal and raise hype and excitement while getting there. We decided as a group that $250 tiers were reasonable and that would require us needing 20 potential racers total. We took a poll of the group in who they would want to see race or who they felt others would want to see race and were ecstatic when the group easily came up with 20 people. We reached out to the potential racers and, other than those facing scheduling conflicts, they were more than excited to participate. Once we secured the racers we built the website, created marketing materials and began advertising at all events and on social media. Honestly, it didn't take much to keep everyone engaged as it took on a life of its own. Companies donated to see their team members race, people were wagering and donating more to see the follies, the racers took silly pictures and funny videos and asked for them to be posted. All around the amazing causes the race supported brought everyone together.
What, if any, challenges were there in planning and executing the event?
There were no major challenges that we didn't easily overcome fairly easily. We ensured we had insurance and waivers and checked the legal boxes, however, the remainder of the planning and execution came together smoothly.
Did you reach your goal? How much was raised? How did you feel the event went overall?
Our goal to raise $5,000 for Shelters to Shutters and we raised over $7,000. We simply could not be happier and humbled by the support of our PMA Members  and their willingness to give of both their time and money.
Do you have any advice for other organizations or companies that may be interested in planning a fundraising event for Shelters to Shutters?
Have fun with it and incorporate as many charitable features to it as possible! We sincerely believe that the incredible success of this fundraiser was because we were fundraising for such an amazing cause in Shelters to Shutters, because all 20 Green Machines (trikes) were donated to the children at Childhelp and because we offered a fun experience to our PMA members in watching the race and cheering for their favorite racer(s).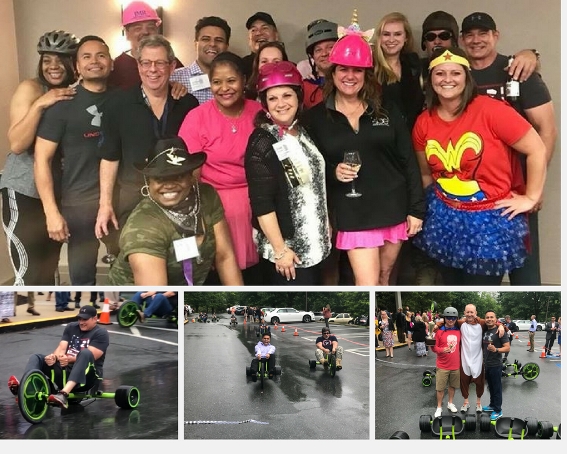 To view some hilarious video footage and fun photos captured at the event, visit Facebook #PMABigHearts.
Interested in planning a fundraiser for Shelters to Shutters with your company or organization? Contact Kristen Fagley at kristen@shelterstoshutters.org or 703-634-6130.