We're proud to announce that Shelters to Shutters has been featured on a segment on CNN's "Impact Your World," a show that informs and connects audiences to organizations working on solutions to the world's most pressing problems.
The segment first aired on June 26 at 8 AM and 2 PM EST, with subsequent airings on June 28, 30 and July 1.  You can see the story online here: https://www.cnn.com/2018/06/25/us/iyw-nonprofit-shelters-to-shutters/index.html.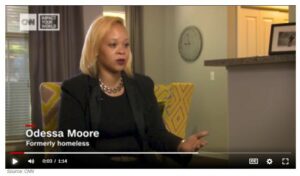 The segment features our systems-changing work and our participant Odessa—a mother of two sets of twins who experienced homelessness and worked hard to start not only a new career with S2S, but a new life.
We invite you to share this powerful segment and spread the word through your communication channels. Or, re-tweet and re-share Shelters to Shutters' posts from our Twitter, Facebook, LinkedIn and Instagram accounts.
__________________________________________________________________________________



CNN's Impact Your World is an empowerment initiative that gives people an opportunity to interact with and respond to the news. CNN connects our worldwide audience to the interests, passions and causes they care about through the people and stories covered by our award-winning journalists as well as by those presented by prominent figures and celebrities.
It's a movement inspired by the audience's desire to be a part of the solution as they consume CNN news coverage on television, online and on their mobile devices. People are informed and connected to organizations that allow them to act easily and on demand, and then share with the CNN community their own personal impact on the world.

Shelters to Shutters is a nonprofit organization that provides housing and employment opportunities to the homeless by educating and engaging real estate/property management leaders and encouraging action within their communities. Shelters to Shutters brings together apartment industry and real estate professionals across the country who are committed to offering opportunity and economic independence to individuals facing homelessness. With more than 105 lives changed, our program is successful in not only assisting individuals and families who have faced homelessness but also helps the industry meet a growing business need — identifying and retaining good employees.